Joseph DeMarco Thrift Shoppe Stealth Ebay Store
Joseph DeMarco Thrift Shoppe Stealth Ebay Store Hubcapjoes allegedly owns another brick and mortar store front at 331 Kinderkamack Rd Oradell NJ. It has been said that this is his Ebay stealth account PieceByePiece of which if you look at the seller's avatar you'll see that it has been taken off the internet and is not the image of the real store owner. For years Hubcapjoes bashed eBay and PayPal to his YouTube audience while concealing his eBay ID and the items he sells until Ebayisajoke called him out in 2012 exposing his name, seller ID and what he sells. Back in 2011 and 2012 he was promoting another YouTube user called eBay Pirate that produced videos on how to get back on ebay using stealth seller accounts and how to shill bid. Joseph DeMarco Thrift Shoppe Stealth Ebay Store. Crazeenydriver made comments on the Pirate's videos condoning the use of stealth seller accounts and how to properly shill auction bids. Joseph DeMarco got upset and retaliated against Ebayisajoke for exposing him knowing at that point he would have to do something in order to keep his business because at that point it was busted.
Original YouTube Video: http://youtu.be/VSoPZPHUTYA
Joseph DeMarco Thrift Shoppe Stealth Ebay Store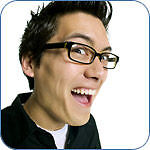 The fake Avatar you see is being used with the PieceByePiece seller account to sell thrift Shoppe items that may be owned and operated by Hubcapjoes. It may be his other seller account that nobody knows about. This Avatar photo is a fake generic photo which has been spammed quite heavily on YouTube through various make money online YouTube channels. If it's not Hubcapjoes, we believe that it may even be another individual's real photo named Matt Zolo of YouTube who is talked about in many articles on this blog. This account has stealth seller written all over it and because Joseph DeMarco likes to claim Ebayisajoke is a scammer, we saw fit to bring to you this information so they can be exposed once and for all. If you look at the location of the items being sold on this account you'll see that it is indeed down the street from the 90 Kinderkamack address which is the hubcap store's location.
We have confirmed the address of the location being 331 Kinderkamack rd, Oradell NJ. We think that it's Hubcapjoes because he admits in the video below that the store is his "Other Location" he claims. You will also notice Crazeenydriver's attitude changed being that now he has to reveal his account information on eBay and what his store sells. He doesn't like the fact that he can no longer remain anonymous on YouTube.
Joseph DeMarco Thrift Shoppe Stealth Ebay Store
Joseph DeMarco Thrift Shoppe Stealth Ebay Store In the video below your going to see how Joseph DeMarco admits to yelling at his buyers over the phone and calling his buyer names such as and I quote "stupid, idiot, prick, scumbag bidders, piece of crap" for filing a case against him. He also admits to trying to put the fear of god into them to scare them into not leaving negative feedback or file SNAD cases. He also admits to trying to blackmail the buyer by telling him he knows the police or has the police involved by threatening the buyer with a police detective. He states that he goggles the police station's address and info and writes back to the buyer claiming his friend is a detective at the 110th precinct in Brooklyn (We notified them and showed them this article). He has been claiming that ebayisajoke is pretending to be police or FBI and now we have video evidence here of Joseph DeMarco doing exactly what he accuses others of doing.
I can't believe PayPal actually agreed to accept this risk on their platform he should be NARU. This is substantial evidence of his ongoing abuse of his seller account and the seller agreement policy. He definitely doesn't hold back in the video and we thank hubcapjoes for providing such evidence. Another great note is the fact that he tells everyone he loved my FBI phone prank video. He also promotes PayPal Blows and I want to thank hubcapjoes for the website plug. Please send this article to John Donahoe CEO & President eBay Inc as soon as possible.
Original YouTube Video: http://youtu.be/lzaTH7qWPbY
Here is a message we found on youtube of hubcapjoes aka crazeenydriver stating that ebayisajoke impersonates FBI when the video above clearly shows Joseph DeMarco lying about knowing a detective from the 110th precinct of Brooklyn, NY in order to try to scare his buyer into submission. Joseph DeMarco has been proven over and over to be a hypocrite and this is just one more piece of evidence placed at his doorstep.