How to get Sweet Revenge on High Volume Top Rated Sellers that Screw you over on eBay
Have you ever purchased something on eBay from a top rated seller that runs a business on and off eBay using an eBay store? When the item doesn't arrive or it's damaged and you request a refund but the seller refuses to cooperate and hangs up on you when you try and talk to him, it can be a real inconvenience to say the least. Well now there is a solution to keeping them honest!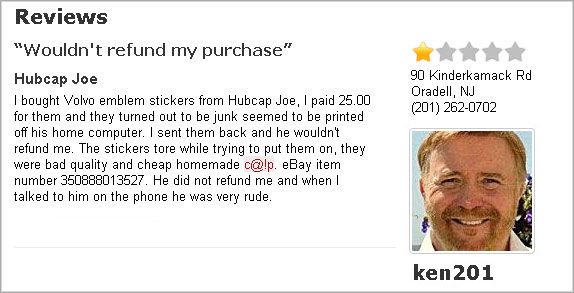 Many of these top rated sellers list their business information in online business directories in their local area so chances are if you're dealing with a top rated seller that's giving you a hard time you can simply google where he's advertising his business at to post negative reviews on him in order to get some top rated seller revenge and possibly put him out of business for good.
How to get top rated seller revenge on sellers that hassle you on eBay, and that don't live up to their shipping or return policies and eBay standards.
My Video on Top Rated Seller Revenge
eBay holds the hand of many of these top rated sellers and these guys know they can get away with just about anything. There is a top rated seller called Hubcap Joe and every time a buyer has a bad expierience from him and leaves him negative feedback he calls his employee friends up at eBay and begs them to remove the negative feedback from his account of which they always do.
This is not fair for other buyers that do business with these cracker jacks and the negative feedback marks act as a warning to other buyers that may experience the same issues. By striking them where they list their business you can really put a blow to their online reputation and best of all it's legal!